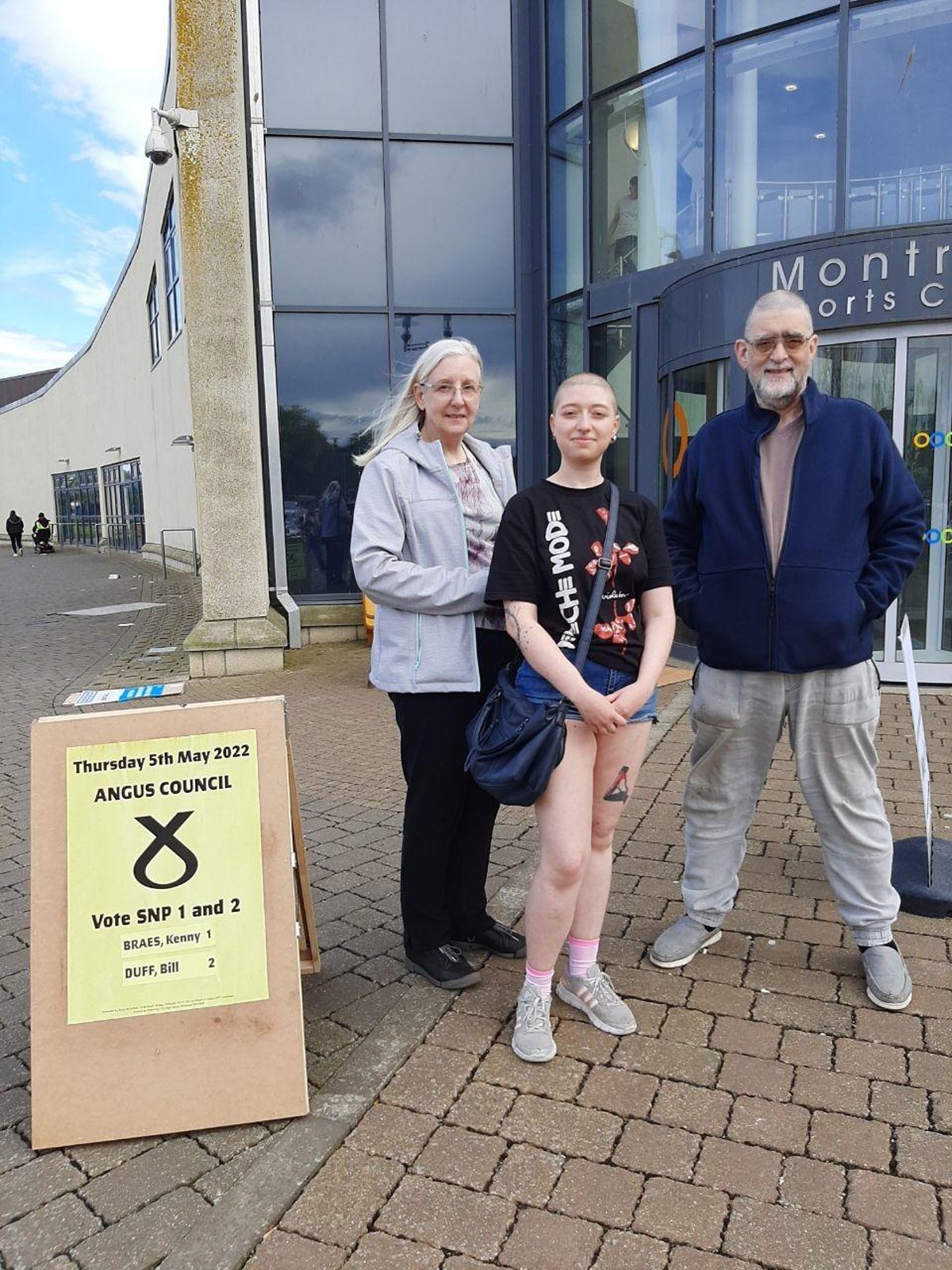 War in Ukraine: Six months after the Russian invasion – "For every Ukrainian, February 24 is considered the worst day of his life"
She's already pulled out a few textbooks from the library to get a head start on her course and is looking forward to attending concerts she's bought tickets for with friends.
And just like her peers, she has mixed feelings – from the excitement of starting her new life as a student in Dundee, to the sadness of leaving behind her home and the close-knit community of the small town of Montrose, in Angus.
Yet Ms. Shevtsova is different from most of her classmates in one respect. At the start of this year she had never been to Scotland and was living with her parents in Kyiv, where she was studying social work – until war broke out six months ago today.
With hosts Harry and Catriona Smart, after casting their first ballot in the Scottish municipal elections.
The invasion of Ukraine by Russian troops has sent shockwaves around the world, heightening tensions between Russia and the West, raising fears of a new Cold War era and an unprecedented energy crisis that has is driving up utility bills across Europe.
On the morning of February 24, Ms. Shevtsova was awakened by her mother, who told her the news that the dreaded invasion had begun.
"I think for every Ukrainian, February 24 is considered the worst day of their life," she says. "When I talk to my parents now, whatever topic we talk about, the conversation always comes back to that day – and those early days of the war.
The scale of the invasion took everyone by surprise. While international observers expected some Russian troop movement into Ukraine, potentially into the east of the country, where the conflict in the Donbass region has been ongoing since 2014, the number of attacks – and geographic spread – was unexpected.
Varvara became an avid member of the Montrose Polar Bears wild swim group.
"We had been anxious for some time, because Russia was setting up its troops on our borders," says Ms. Shevtsova. "But when it happened, we were in shock. When my mum came into my room, the first thing I asked her was 'has the war started?' And she said "yes, my daughter, it is. We have to start packing our bags."
The family fled to a bomb shelter in an underground subway station, where, along with hundreds of others, they remained for seven days, sleeping on the ground and surviving with little food and water.
Soon after, Ms Shevtsova and her mother fled Kyiv, first to the city of Lviv in western Ukraine, then to Poland and Germany, where they stayed with relatives. His mother still lives in Germany, while his father remains in Ukraine, where he is studying to turn his role as a wartime volunteer for the emergency services into paid employment.
She says: "The first two days I couldn't eat, I couldn't sleep. I was just shaking. Sometimes now I can do something, do laundry or drink something and I suddenly have this thought of this. subject… first morning, I can't get rid of it.
Performers attend a raising ceremony of the national flag of Ukraine at the Hetman Petro Sahaidachny National Ground Forces Academy in Lviv, Ukraine. Today marks six months since Russia launched its full-scale invasion of Ukraine. It is also the day Ukraine celebrates its independence from the Soviet Union in 1991.
The date of August 24 has another meaning in Ukraine. Today also marks the 31st anniversary of the adoption of Ukraine's Act of Declaration of Independence – the day it began to officially leave Russian control amid the impending collapse of the Soviet Union. in 1991.
However, this year's celebrations have been muted, with authorities warning people to avoid crowds and ensure they follow air raid warnings. Some Ukrainians hoarded food and water in fear of targeted attacks.
While Ukrainian troops managed to stem the tide of Russian military movements in the capital, other areas bore the brunt of the invasion. A Kyiv suburb of Bucha saw massive destruction and its citizens suffered unthinkable atrocities before Russian forces left the area in March.
In May, a Ukrainian counteroffensive pushed Russian forces back near the eastern city of Kharkiv. However, later that month a prolonged siege and bloody battle at the Azov Steelworks saw Mariupol fall to Russian troops.
The invasion has progressed and changed pace in recent months, with a back-and-forth for areas of eastern Ukraine, which Russia sees as its main targets.
Moscow now occupies more of the eastern regions of Luhansk and Donetsk than before the war, when small parts of the regions were already under pro-Russian control. In some occupied cities, such as Kherson, the Russian authorities introduced the ruble as currency and imposed the Russian curriculum in Ukrainian schools.
Read more
Read more
Ukraine-Russia: "Every night I still dream of the air-raid shelter", says the teenager…
Both sides have accused each other of war crimes, although those allegedly committed by Russia have been well documented. Russia is believed to be responsible for atrocities such as the bombing of a theater in Mariupol, where hundreds of people, including many children, had taken refuge. The bomb attack on a shopping center in Kremenchuk left at least 20 dead and dozens injured.
Ms Shevtsova is one of more than 13,000 refugees who have left their lives in Ukraine to start a new one in Scotland. At least 12 million people are estimated to live in other countries, including countries bordering Poland, Romania and Moldova – but also as far away as the US, Canada and Australia .
When Ms Shevtsova got off the plane at Edinburgh Airport in April, she was one of the first Ukrainians to arrive in Scotland under the Homes for Ukraine visa scheme. The scheme required refugees to partner up in advance with a British sponsor, who would agree to take them into their home.
Scotland soon introduced a top-up to the scheme, allowing those fleeing war to name the Scottish government as a sponsor. However, the program was suspended in June, due to a backlog of refugees being processed. Many have been living in hotels for months, while the government has hired a cruise ship docked in central Edinburgh to temporarily house hundreds of people and plans to open a second in Glasgow in September.
While more than 10.5 million border crossings have been made from Ukraine since February, around 4.5 million people have crossed back. While some of them are refugees living in neighboring countries like Poland, who wish to visit their family or their belongings, others have returned for good.
Because Ukrainian men between the ages of 18 and 60 are not legally allowed to leave the country in case they are needed for the war effort, some families have decided to try their luck together, rather than stay apart indefinitely.
In Kyiv and other parts of Ukraine that were not occupied by Russia, cafes, cinemas, offices and shops are now open. Ukrainians at home are clinging to some semblance of normality.
Yet life is far from normal. Mobile phone apps alert citizens to attacks, with a new color-coding system introduced earlier this week to expand alerts from simple air raids, to include chemical and radiological warnings, as well as – now nightly – raid alerts aerial or artillery fire.
Since the start of the war, patriotic Ukrainians have distanced themselves from Russian ties.
Ukrainian language classes provided by local libraries for Russian speakers are reportedly booming, while schools in Kyiv have pledged to scrap Russian classes when the new term begins in September.
Ms Shevtsova has spent the past four months living with volunteer hosts Harry and Catriona Smart.
Although their official accommodation agreement will come to an end when she leaves for Dundee in September, she says she will always call their home 'home' and will return occasionally, as many students do, for a freshly cooked meal and a bit of comfort.
She sees every day as a chance to enjoy a normal teenage life. She has taken up wild swimming with a local band in Montrose and enjoys the Scottish music scene. She also took paid work with a charity to help other Ukrainians integrate into life in Scotland and also volunteered with a local group for new Ukrainian refugees.
"I have survivor's guilt," she says. "My life is definitely different. But I can also see that the difficult situation has given me so many opportunities. I think I haven't suffered like people in Mariupol and other regions, so why? I deserve it so, i remember i was living in an air raid shelter and i try to push it away and enjoy my life.
"I'm also very nervous about the state of the world, China, Taiwan, Serbia and Kosovo. Every news worries me because I know how unpredictable it can be."