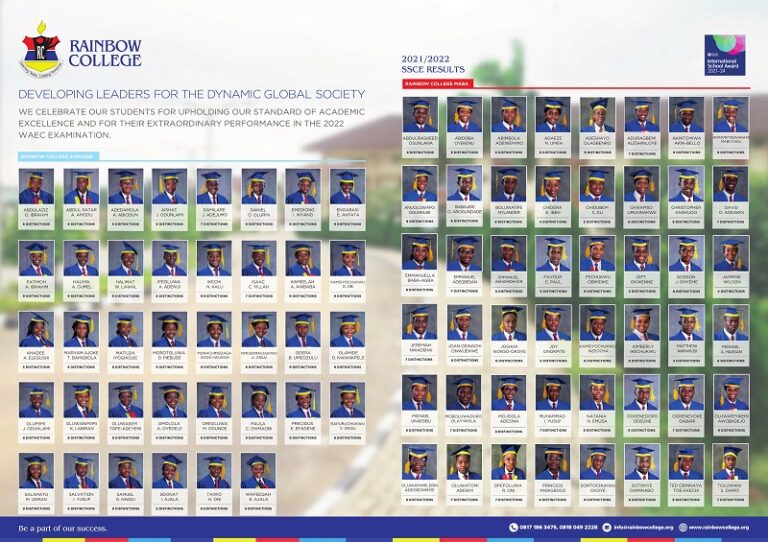 Rainbow College Shines Again With WASSCE 2022 Results
It's no news that the timeliness of a prep meeting is a recipe for success. There is a lot to consider when it comes to innovating and setting the pace. Dedication, hard work and efficiency, among others, are key elements in shaping and building a bright and promising future.
Rainbow College has yet again recorded another breakthrough achievement from its students in the West Africa Secondary School Certificate Examination 2022, WASSCE, with 99% A1-C6 marks in all materials. This speaks to the focus and determination of the teachers as well as the commitment of the students to uphold the standards of high achievement and excellence that are synonymous with Rainbow College.
Building on the success of the past year, this achievement reflects the consistency and dedication to each student's growth. Rainbow College students, through the help of their talented teachers, curriculum, co-curricular and extracurricular activities, and after-school counseling, have been awarded scholarships to study at some of the most prestigious universities of the world. This achievement follows the fact that the school has received several awards and accolades, all stemming from the academic achievements of the school, the quality and achievements of alumni, and the outstanding leadership of the Governing Board, among others.
Established over twenty-five years ago, Rainbow College, an offshoot of Pampers Private School, continues to hold the reins as one of the major players in the Nigerian education system, ranking as the 4th best secondary school in Nigeria according to Edusko's 2021 ranking. The school boasts of top-notch teachers and runs a multi-curricular education system that incorporates both Cambridge and Nigerian external examinations as well as participation in extra-curricular activities such as coding, swimming and chess to stimulate creative and critical thinking.
Speaking on the success of the WASSCE 2022 results, Rainbow College Director of Studies Dr. Olayinka Oduwole expresses deep pride in the students' achievements, "This result shows that Rainbow College is one of the best schools secondary schools in West Africa. . The standards for achievement here at Rainbow are very high. Year after year, our students continue to honor us with excellent results. They showed that dedication and commitment cannot be overstated. They challenge us to be better versions of ourselves, to grow alongside them, and we are honored to be part of that growth. We are challenged to do more and continue to raise the bar for incredible student results. For the 2022/23 assessment cycle, we are aiming for 100% success in WAEC, we are already putting the change in place to achieve our goal.
Congratulations to our teachers and students for an outstanding performance. Here's to setting the tone and bringing out the best in every child at Rainbow College.
Rainbow College operates day schools and boarding schools in Surulere, Lagos and Maba, Ogun State, respectively, with priority given to the moral, physical and mental development of each child.