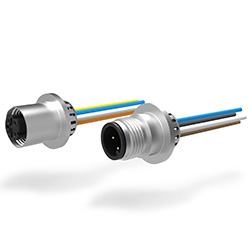 New tamper evident patented snap connector system in M12 design
24-03-2022 | Provertha | Connectors, switches and EMECH
Provertha has launched a new M12 style tamper evident connector for applications in industrial automation, especially for encoder enclosures exposed to high vibration. Thanks to a patented fitting section, this connector eliminates the disadvantages associated with screw-on connectors.
The specially split contour of the press-fit section allows for significantly larger manufacturing tolerances and a more flexible press-fit section in the housing. Customers can configure the 90 degree cable exit in their own products so that enclosures or plug-in connections do not have to be further adapted during final assembly of encoders or actuators.
The new connector facilitates a vibration resistant connection superior to screw connections, especially under heavy vibration. It is firmly connected to the customer's box, for example in the case of encoders. It cannot be manipulated by the end customer because, unlike screwed fittings, it has no width flat. The plug-in connection is exceptionally pull-resistant and ensures very high retention forces in the customer's housing in a compact design.
Most flange connectors on the market have a thread for standard attachment. However, it is almost impossible to flexibly determine the coding position and therefore the cable outlet for 90 degree cable connectors. Until now, large special versions with a lock nut system were required for this.
The new connector, on the other hand, not only supports safe use, but also supports the trend of customization. The customer can flexibly choose the direction of the cable outlet and completely align the connector to the needs of the end customer. The connector with an interference fit flange provides high reliability throughout assembly. The position of the coding is marked on the flange with an indentation so that the orientation can be identified when driving in or fixing the cables. The new connector system is a safe, robust and flexible solution.