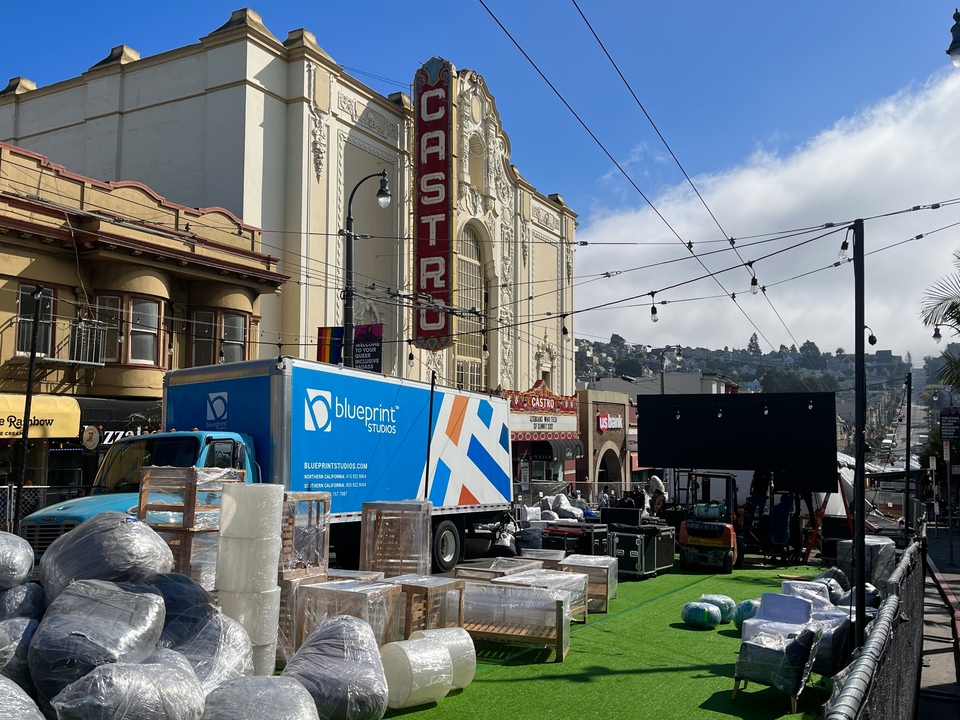 Lesbians Who Tech summit takes over Castro Street
The 9th edition Lesbians Who Tech & Allies Summit kicks off Wednesday in the Castro, and as of Tuesday evening, two blocks of Castro Street have been completely blocked off for the event.
After two years of virtual vertices due to the Covid-19 pandemic, this year marks the return of the in-person Lesbian Who Tech Summit. The 2020 summit was postponed just at the start of the pandemic.
Event organizers expect around 15,000 attendees to attend for the three-day event.
Castro St. will reopen Saturday, October 15 at 10 a.m. | Photo: Steven Bracco/Hoodline
On Tuesday, crews could be seen setting up tents, stalls and stages along Castro Street. Castro Street will remain closed between Market and 19th Street until 10 a.m. Saturday, October 15. The neighborhood's two public parking lots along Castro and 18th Street will also remain closed.
"We're closing off the streets and building a full indoor and outdoor experience, picture festival vibes, while making our summit as fun and COVID-19 safe as possible," says Lesbians Who Tech on its website.
The summit kicked off virtually Monday and Tuesday, with in-person events beginning Wednesday at the Castro.

Crews were on site Tuesday to construct the outdoor event space. | Photo: Steven Bracco/Hoodline
"Lesbians Who Tech & Allies is the world's largest professional LGBTQ community – committed to visibility, intersectionality and changing the face of technology and, most importantly, the only organization that focuses on LGBTQ women, women of color and non-binary leaders," the site adds. "This event supports our work by helping our leaders learn to code and get the crucial support they need as they face systemic barriers at work."
Keynote speakers taking the stage for this year's event at the Castro Theater include journalist Kara Swisher, marketing executive Bozoma Saint John, Airbnb co-founder Brian Chesky, comedian and actress Rosie O'Donnell, the author Mary Trump, WNBA player Layshia Clarendon, Accenture CEO Julie Sweet, New York Times columnist Roxane Gay, Black Lives Matter co-founder Alicia Garza, and more.
Muni lines in the region, including the 24 Divisadero and 35 Eureka will be redirected. 33 Ashbury/18th St. will continue to operate, but delays are expected due to crowds.