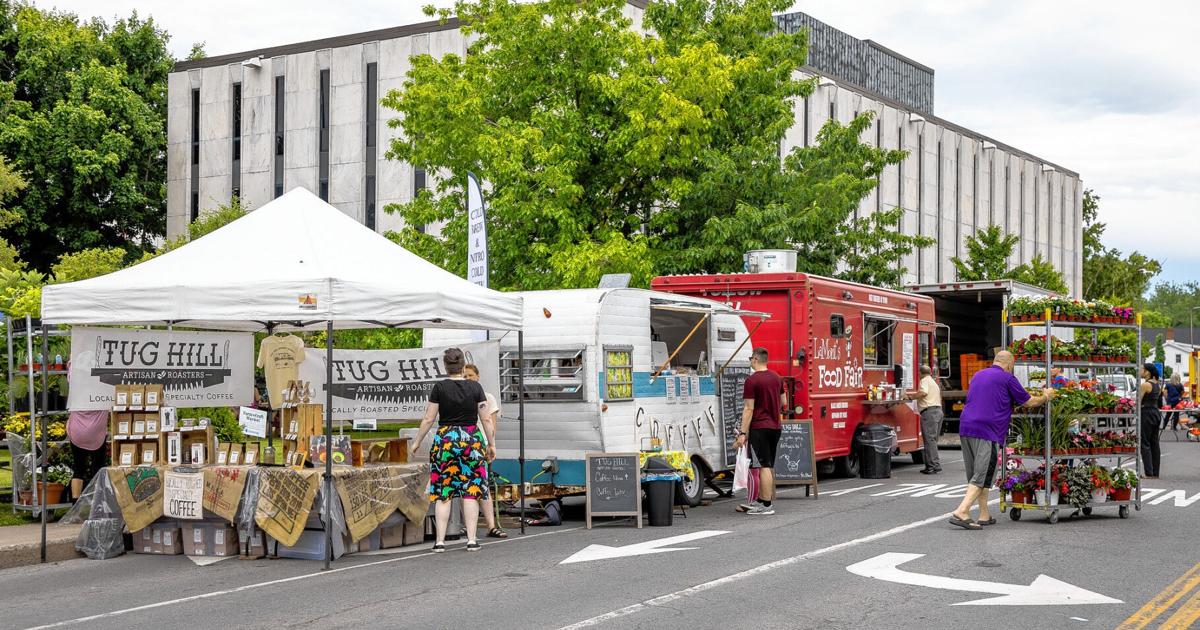 Farmers Market food trucks under new fire code scrutiny | Company
WATERTOWN — Douglas LaMont was surprised when a city code enforcement officer showed up on the first day of the Watertown Farmer's Market two weeks ago to perform a safety inspection of his food truck.
He and his wife, Rhonda B., have never had to go through a city code enforcement inspection before for their food truck in all the years they've been coming to Greater Watertown-North Country Farm & Craft Market.
He didn't know why the code enforcer showed up unannounced and didn't understand why they had to have one, although the inspection focused on fire safety.
At first, Mr. LaMont thought it was a scam and kicked the law enforcement officer out of the food truck.
"He was causing a safety issue," Mr. LaMont said. "He came when we were really busy. He could trip and fall and cause a fire.
Kayla S. Perry, president of the Greater Watertown-North Country Chamber of Commerce, said she was unaware of food truck safety inspections until she received an email from the application of the code two weeks before the opening of the farmers' market on May 25.
The chamber hosts the Wednesday Farmer's Market, which runs until October 5th.
It was the first time food trucks had to be inspected at the farmers' market, she said, adding that she forwarded the email to the food truck vendors.
But not all municipalities do the inspections, she said.
Mr. LaMont said he never saw the email until he found it in his spam folder.
Scott B. Gilbert, owner of Tug Hill Artisan Roasters with his wife Vanessa, also wondered why his coffee trailer needed to be inspected. Two weeks ago, he went to the town council meeting to express his concerns.
Food trucks have only had to pass through the state Health Department for inspections, mostly for the food aspects of their businesses, the two businessmen said.
So they wondered if the city's code enforcement inspections were duplicating what the state health department was already doing.
City code enforcement supervisor Dana Aikins said state building codes changed in 2020 regarding food trucks.
He learned about the changes when he and one of his employees attended a training conference in Lake Placid. The changes are similar to what is required of restaurants for fire safety, he said.
"They are essentially mobile kitchens," he said. "They can go anywhere. They can park anywhere.
Ms. Perry said she hopes to get the city and food truck vendors to work together on the issue.
They need to make it safe for vendors, their employees and the public, she stressed.
During the inspections, the two businessmen were informed that they needed fire extinguishers, so they each bought one.
They also gave the code enforcement officer $20 for the cost of the inspection. They asked for a receipt and still haven't received one.
During his inspection, the code enforcement official told Mr. LaMont that he had to install an ANSUL fire suppression system in the kitchen exhaust hood of the truck.
Mr. LaMont said installing the ANSUL system would cost $15,000.
"If we have to get that, I'm gone," he said, saying he would no longer come to the farmers' market.
"We don't make $15,000 in one season."
Another food vendor, Pink Taco, has a new truck, so the truck was already equipped with one and doesn't face the same expenses, he said.
Mr. Aikins acknowledged that there had been some confusion over the hood issue. He finally got clarification from the state Wednesday afternoon on whether range hoods would be "grandfathered" and allowed.
He was eventually briefed by State Department officials, who told him that existing food trucks will have to comply with the new regulations.
That means Mr. LaMont will have to install the fire suppression system in the truck, Mr. Aikins said.
He plans to contact Chamber of Commerce officials and Mr. LaMont as soon as he can to let them know what he has learned.
He will also say that he will give Mr. LaMont some time to decide his course of action.
But Mr. LaMont criticized the state for its decision.
"You go through two years of COVID and you start to come out of it and do it and be able to pay your bills," he said. "So they do this (expletive)."
Tug Hill Artisan Roasters and Johnny D's Food Truck, which prepares food outside the truck, are not affected by the settlement.