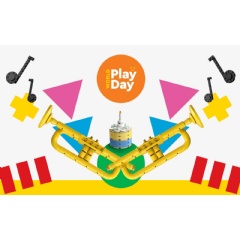 Building the LEGO® legacy – celebrating 90 years of creativity and playing well
Today, The LEGO Group is celebrating nine decades of fan creativity and helping children reach their full potential through LEGO® play. To mark the occasion, the brand is hosting its first ever World Play Day – a full day of global events, collaborations and surprises dedicated to helping families and communities play more.
From the time Ole Kirk Kristiansen, a young Danish carpenter, took his tools and made his first wooden car in 1932, he focused on making high quality toys that teach children about the world and give them the skills needed to thrive. He named his company "LEGO" from "Leg Godt", which means "Play Well" in Danish. Inspiring fun, playful learning remains the toymaker's goal today.
system we know today. The LEGO® brick that offers unlimited creative building possibilities was born in 1958.
In his small workshop in Billund, Denmark, Ole hand sculpted a collection of vehicles, ducks and yoyos and then began experimenting with plastic building bricks. His son, Godtfred, added a few small tubes for the bricks to interlock and stick together, officially starting the interlocking system we know today. The LEGO® brick that offers unlimited creative building possibilities was born in 1958.
Since its inception, the iconic LEGO brick has featured in over 18,000 LEGO sets and inspired millions of kids and fans to play and create. It helped them master engineering with LEGO® Technic; learn about robotics and coding with LEGO® MINDSTORMS®; explore friendships and adventure across the real and fantastical worlds of LEGO® Friends and LEGO® Ninjago, explore new digital playgrounds with over 85 mobile and console games, and design some of the brand's most popular sets with LEGO® Ideas. The brick was even celebrated under the sparkling lights of Hollywood in THE LEGO™ MOVIE.
After ninety years of inspiring and endless hours of play, the brand is devoting its anniversary celebrations to helping more families find a moment of play in the day, after new research reveals that families believe they don't play enough.
The power of play
The new LEGO Play Well 2022 study surveyed 55,000 parents and children in 30 countries and found that while play changes lives and brings people together, in today's world families struggle to prioritize .
Almost all parents believe that play helps children develop lifelong skills like creativity (93%), communication (92%), problem solving (92%) and confidence (91% ). Play also makes the whole family happier, strengthens family bonds and improves their well-being according to 95% of parents.
But despite the many benefits of play, families feel they are missing out – the majority of children (82%) wish they could play more and a third (34%) of parents feel their family does not play together enough. Daily responsibilities like working long hours (31%), chores (28%) and simply not having enough time (32%) are the biggest barriers to family play according to parents.
Mitchel Resnick, Professor of Learning Research at the MIT Media Lab, commented*: "A little play can go a long way. When kids bring a playful spirit to activities throughout the day – make a fort out of blankets and pillows in the bedroom, make a musical instrument out of pots and spoons in the kitchen, make up a fantasy story with a parent or sibling while driving the bus – they learn to think creatively and work collaboratively, essential skills for everyone in today's world.
world game day
90-second game challenges games that only take a few minutes, The LEGO Group and The LEGO Foundation have the perfect fun activity for any family schedule, but World Play Day is the company's biggest invitation to play yet. The packed list of games of the day is full of inspiration to help families and communities find a quick and simple moment of playful joy; regardless of their age, location or interests.
"When my great-grandfather founded the company 90 years ago, he recognized that play could change children's lives; it brings families together and helps children develop skills that can enable them to reach their full potential. He only had a small workshop, but he had big ambitions to ensure that as many children as possible could enjoy the benefits of play," said Thomas Kirk Kristiansen, Chairman of The LEGO Group. "Whether in 1932, 2022 or our 100th anniversary in 2032, we are and will always strive to continue Ole's legacy of helping all families, wherever they are in the world. world, to play well." continued Thomas.
Join the party
Fun celebrations include:
Opening of a vibrant new play space in West Harlem inspired by local children and their ideas to bring more play to their community, and designed and brought to life for the summer by visionary artist Hebru Brantley
Inspiring families with 24 hours of exciting play ideas, building challenges and "Which brick are you?" questionnaire available on lego.comLEGO and LEGO Life social networks
Team up with gaming icons and world-renowned creators including award-winning singer-songwriter Alicia Keys, soccer legend Thierry Henry, leading player Loserfruit, visionary artist Ruohan Wang, pioneering inventor Simone Giertz, celebrity chef Yotam Ottolenghi and international dance music DJ and fashion icon Peggy Gou to remind people how simple and fun gaming can be with exciting game challenges
Invite families and fans to our LEGO stores which have been transformed into play areas with fun birthday-themed building activities, giveaways and display areas for creations to display. The stores in Brussels, Copenhagen, Stockholm, Barcelona, ​​Berlin and Wroclaw will also have artists and make-up artists
The newly expanded London Leicester Square store will reopen on August 10 with an opening full of games in what is now the world's largest LEGO store
Collaborate with Adidas to bring the game to the high streets of London, New York and Berlin with fun and exciting takeovers of its flagship stores
Invite LEGOLAND guests to the parks* to "play your way" by experiencing five different types of play activities and earning badges while exploring LEGOLAND
Demonstrate children's ability to turn mundane moments into playful adventures and inspire parents to do the same as part of the LEGO Foundation's #PlayPledge movement
And, unveiling a playful 94,128-piece LEGO birthday cake and inviting fans of all ages to experience a world of playful learning activities at LEGO House in Billund, Denmark
Follow the hashtag #LEGO90years or visit LEGO.com/90-Years-Of-Play to join the party.
Notes to Editors
For more information, please contact [email protected]
*LEGOLAND parks participating in the activity include: United States: Florida, California and New York, Denmark: Billund, United Kingdom: Windsor, Japan: Nagoya and Germany: Günzburg.
Building a better future
The past nine decades have reinforced how important play is for all children. That's why 25% of LEGO Group profit dividends go to The LEGO Foundation, giving millions of children the chance to play and learn, including those who are disadvantaged and affected by crises. Last year, The LEGO Foundation committed more than $440 million to help children around the world reach their full potential through play.
About the LEGO Play Well 2022 Study
All report findings, unless otherwise stated, were gathered from a total of 32,781 parents and 24,593 children aged 5-12 through a 20-minute quantitative online survey conducted in 35 countries in early 2022. For a full list of countries, please contact [email protected]
About The LEGO Group:
The LEGO Group's mission is to inspire and develop the builders of tomorrow through** the power of play. The LEGO System in Play, with its LEGO brick foundation, lets kids and fans build and rebuild anything they can imagine. The LEGO Group was founded in Billund, Denmark, in 1932 by Ole Kirk Kristiansen, its name is derived from the two Danish words Leg Godt, which means "to play well". Today, the LEGO Group remains a family business headquartered in Billund. Its products are now sold in more than 130 countries around the world. For more information: www.LEGO.com
This news content was set up by WebWire's editorial staff. Linking is allowed.
Press release distribution and press release distribution services provided by WebWire.